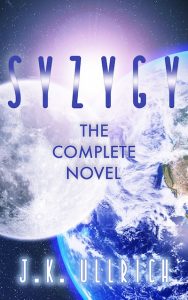 A century after a genetic engineering disaster eradicates human life on Earth, the survivors—inhabitants of a crumbling lunar colony—send conscripted teenagers to scavenge the ruined planet for species that will terraform Mars. Ash is the best diver in a generation, but when tragedy strikes, he vows to end his colony's dependence on its old homeworld…even if it means striking a dangerous bargain with Skye, an interloper from the dark side rebels who promises him an unprecedented discovery on Earth. Will their fractious partnership secure a future for humanity, or finally drive it to extinction? "Syzygy: The Complete Novel" unites all six installments of the original novella hexalogy, along with an exclusive prequel novelette, in one epic volume.
Targeted Age Group: 15-35
Book Price: 0.99
This book is bargain priced from 07/29/2018 until 08/05/2018.
Links to buy book: (Check book price before you buy, as prices can change due to expiration of the sale or other technical issues.)
Link To Buy This Book on Amazon
Is this book no longer priced under $2.99? Let us know in the comments! Have you read this book? Tell us about it in the comments!