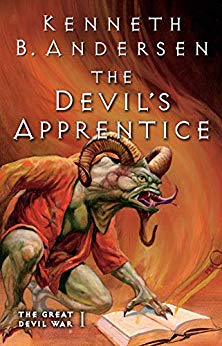 Philip is a good boy, a really good boy, who accidentally gets sent to Hell to become the Devil's heir. The Devil, Lucifer, is dying and desperately in need of a successor, but there's been a mistake and Philip is the wrong boy.
Lucifer has no other choice than to begin the difficult task of training Philip in the ways of evil. Philip is terrible at being bad, but when he falls in love with the she-devil Satina and experiences the powerful forces of love and jealousy, the task becomes much easier.
Philip finds both friends and enemies in this odd, gloomy underworld—but who can he trust, when he discovers an evil-minded plot against the dark throne?
The Devil's Apprentice is book 1 in the Great Devil War series, but can be read as a stand-alone story.
It's a multi-award-winning bestseller, published in more than ten countries, and the movie rights are optioned.
The Great Devil War is a gripping and humorous tale about good and evil seen from a different perspective, set in a world beyond your wildest dreams.
Targeted Age Group: 14 and up
Book Price: 0.99
This book is bargain priced from 08/30/2019 until 09/15/2019.
Links to buy book: (Check book price before you buy, as prices can change due to expiration of the sale or other technical issues.)
Link To Buy This Book on Amazon
Is this book no longer priced under $2.99? Let us know in the comments! Have you read this book? Tell us about it in the comments!